Sometimes customers of the SBG custom Katana, having waiting 3 months or more for their personalized design or having decided so at the start, decide not to actually use these blades to the full potential of the cutters that they are.

This fantastic photo sent in by one of the batch 17 custom Katana shows that many are intended for functional art or display swords (real swords behind glass, a LOT different than a purely decorative sword as any serious collector knows).




The customer that sent me this photo asked me about the other recent SBG made blades available ex stock, the blinged up SBG prototypes - but these swords again are just a little too nice to just use as a daily cutter.

So I am pleased to offer him and everyone else a solution.

It's been on ice for a few months as I didn't feel comfortable releasing it until batch 17 was wrapped up properly and batch 18 well underway - but here it is now:

Introducing...

The SBG "Black Dragon" Katana - a basic SBG custom Katana based on a popular design configuration, premade and in stock!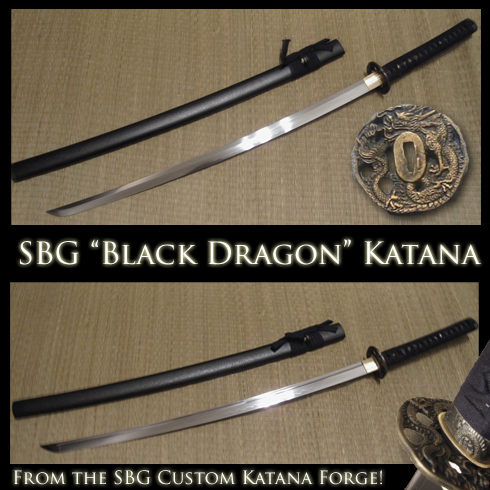 This basic design first appeared in the SBG custom Katana gallery, and since then has proven very popular - with at least 2-3 orders with every batch (and quite a few more that are similar). No real surprise actually, as they are some of the coolest fitting sets on offer.

Basically, it is a 28" blade available with or without bo-hi with P2 brass Dragon tsuba, C10 Dragon fittings and all black ito wrap/rayskin plus a black glossy saya.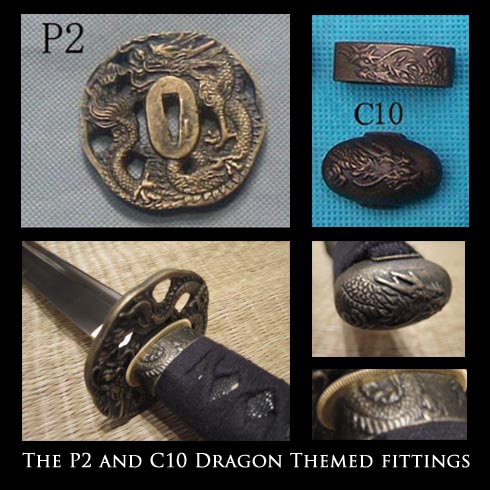 Rather than explain it all again here simply click the link below to read the full story.

SBG Black Dragon Information

Hope you like them!

- Paul